ComplyIQ: Your Tax Compliance Management Platform
Does your tax compliance feel like a burden? Get out of the weeds and get back to what matters most with the only compliance management platform that serves your business across the entire compliance lifecycle.
Indirect Tax Compliance Made Simple
Your Complete Toolkit for Tax
With our state-of-the-art process management workflow and dashboard, you can stay compliant, manage the workload with complete visibility, and optimize team efficiencies.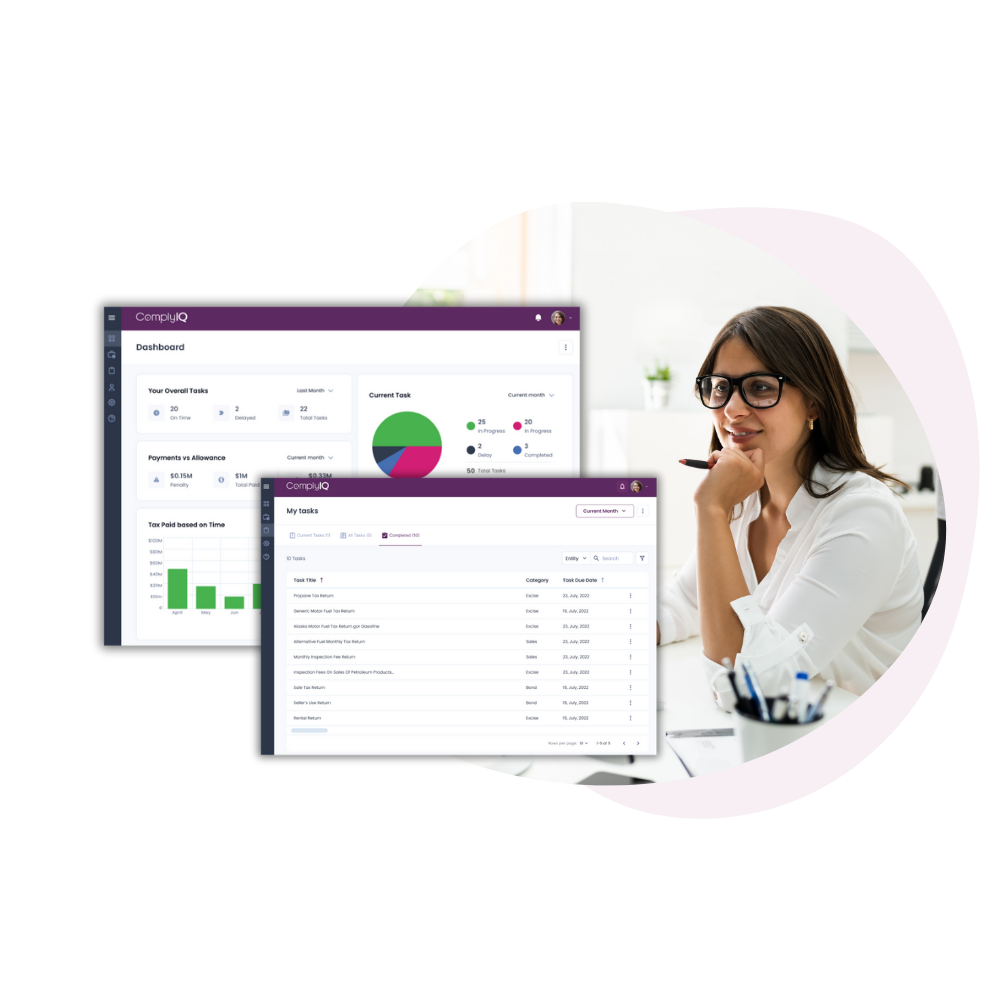 Staying on top of licenses can be a huge burden, and not just for the tax team.
Meet your one-stop shop for managing licenses and certificates for compliance.
Stop spending days on data preparation each month.
ComplyIQ no-code data tools give you complete visibility into your data with a visual process flow, clean-up automation, and easy-to-use correction capabilities to ensure your data is accurate, complete, and formatted correctly.
If you're not accurately calculating taxes you may be leaving the business open to risk, fines, and penalties.
We've got you covered.
Stop spending so much time trying to meet never-ending compliance deadlines. Minimize time spent on data preparation, file accurate returns, and manage audits with ease.
%
Reduction in Time to File
Tired of trying to find the needle in the haystack? Say hello to faster and easier data reconciliation.
%
Reduction in Time to Reconcile
Prepare and manage audits with ease. Track each transaction from its introduction to ComplyIQ, all the way through to its presentation on schedules. Quickly pull all data for an audit period using our proprietary data tools.
Reduce filing times by 75%
Minimize the time the tax team spends researching tax rate updates, legislative changes, and updating your tax compliance system. ComplyIQ does it for you.
Let the tax team focus on analyzing
Tax analysts want to analyze, not deal with data preparation issues. We get it. ComplyIQ makes it easier to automate manual data tasks and skip the spreadsheets. Now tax analysts can stay focused and move strategic tax initiatives forward.
Mitigate risk & improve visibility
Reduce the risk of tax fines and penalties that arise from audits, late filings, and overpayments. With ComplyIQ, you can improve the accuracy of your indirect tax reporting, tax calculations, and license maintenance.
The teams behind tax compliance
Comprehensive workflow management
Create repeatable workflows to mirror your unique compliance processes with our easy-to-use workflow builder and widgets.
Decision-tree transaction analysis
Calculate accurate tax rates in real-time with our best-in-class tax rate engine. Built by our team of tax compliance experts and based on your transaction data.
State-of-the-art data cleanse automation
Ensure your data is accurate, complete, and formatted correctly. Identify unexpected errors, correct those items within ComplyIQ, and create automation to resolve similar issues next time.
To get started with ComplyIQ, powered by IGEN, simply fill out the form below or give us a call at 888.998.4436. Reach out to us today to talk to an expert.